"Luz, it's never too late. We keep trying–especially if it feels like there's nothing more we can do" — Abuela, Luz Makes a Splash, p. 79.
| | |
| --- | --- |
| Creator(s) | Claudia Dávila (author and illustrator) |
| Publisher | Kids Can Press |
| Publication Date | 2012 |
| Genre | Fiction |
| Environmental Themes and Issues | Climate Change, Consumerism, Habitat Destruction, Mining, Drought, Water Conservation, Corporations, Environmental Activism |
| Protagonist's Identity | Luz: Latinx girl. The comic also features a multi-racial cast of characters, including Luz's Black friend Robert |
| Protagonist's Level of Environmental Agency | Level 5: High Environmental Agency and Activism |
| Target Audience | Middle Grade (8 to 12 years) |
| Settings | The fictional city of Petroville |
---
Environmental Themes
In Luz Makes a Splash, the fictional city of Petroville faces a dangerous water crisis. A drought has led the city to impose strict water restrictions, and all of the plants are withering in Friendship Park, a community garden that Luz and her friends created in the first volume of the series, Luz Sees the Light. To make matters worse, the corporation Top Cola has bought and drained a local pond, destroying its ecosystem and compounding the water crisis by siphoning away groundwater. Luz draws her family and friends' attention to the pond. Inspired by Luz's own environmental activism, the other characters begin to advocate against Top Cola by creating a petition and raising awareness about the company's harmful practices.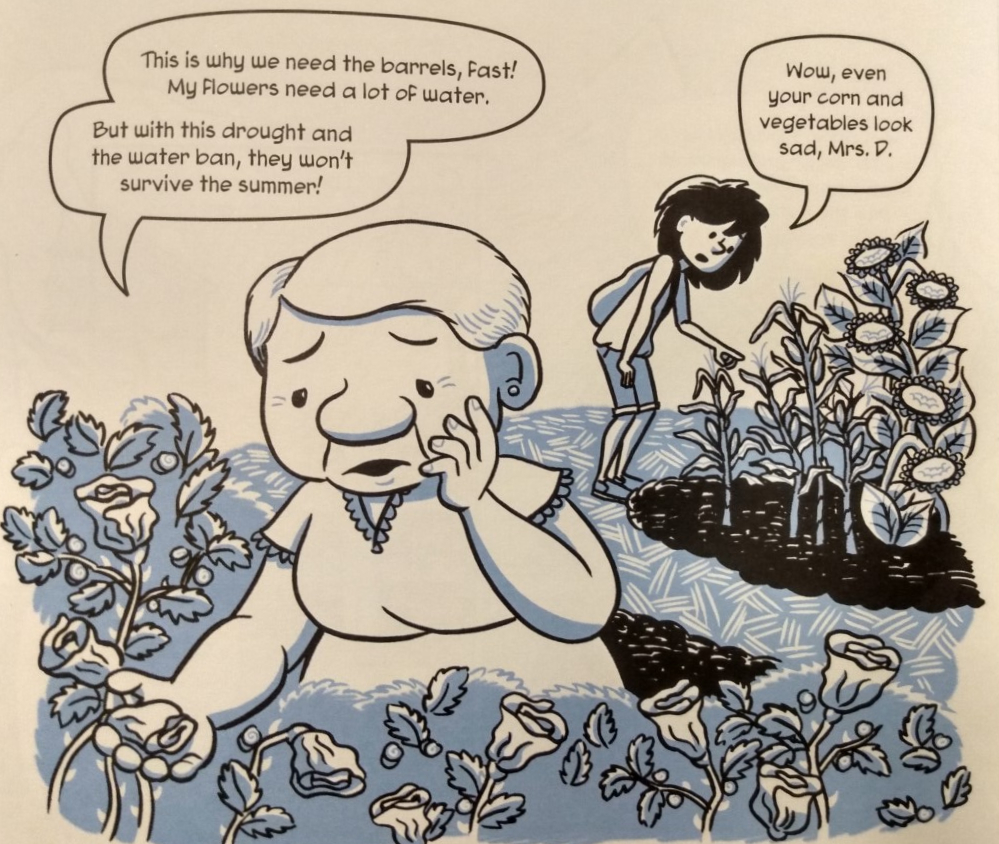 Meanwhile, Luz and her adult neighbor Gord rally the community to help save Friendship Park. They create a greywater filtration system to transform laundry water from a nearby café into clean water for the plants. Luz also saves a dying reed from the drained pond to add to the filtration system. After the efforts of Luz's family and friends, Top Cola announces that it will slow production to help replenish groundwater levels and restore the destroyed pond habitat. The comic concludes with the long-anticipated arrival of rain, ending the drought.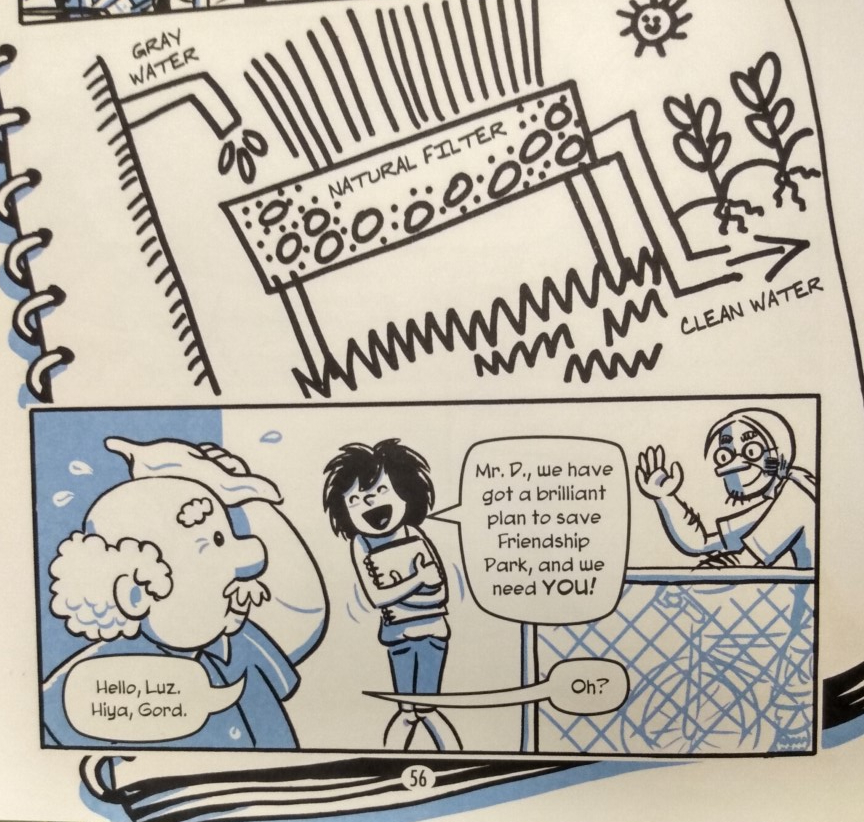 ---
Paratexts
The comic's copyright page includes the Forest Stewardship Council logo, indicating that the book is made out "paper from responsible sources." Additionally, the comic's backmatter includes a four-page mini-comic, "Luz Starts Knowing: Gord Shows Luz How to Make a Water-Wise Garden!" Gord and Luz work together to xeriscape Gord's lawn, replacing the grass with indigenous grasses and plants that require little water and feed local wildlife.